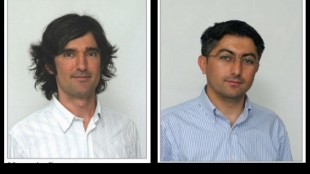 FEASS FACULTY MEMBERS AND AND STUDENTS WIN FULBRIGHT SCHOLAR AWARDS
The Turkish Fulbright Commission, an organization sponsored jointly by the United States and Turkish governments, has been distributing its highly prestigious scholarships for the past 65 years. With an annual budget of more than $5 million, the Commission provides guidance to Turkish citizens interested in studying or doing research in the United States as well as funding for Turkish and American students, scholars, researchers and professionals through educational and cultural exchange programs.
Two Bilkent FEASS professorsÔÇöAssoc. Prof. H├╝seyin Boyac─▒ (PSYC) and Asst. Prof. Zeki Sar─▒gil (POLS)ÔÇöhave been selected for Senior Fulbright Scholar awards to pursue research, teaching and training abroad during the 2014-15 academic year. Dr. Boyac─▒ will be at the University of California, San Diego, while Dr. Sar─▒gil will be at Princeton University. In total, Bilkent University received 3 Senior Fulbright Scholar awards this year.
In addition, 10 Bilkent students and graduates have been selected for Fulbright Student fellowships this year, 3 of which are from FEASS: Nisan G├Ârg├╝l├╝ (ECON/IV), Sercan Canbolat (IR/MA) and ├ľmer Karaduman (ECON/ IV)
The Fulbright program allows students to pursue graduate studies across a variety of disciplines. For more information on the various Fulbright scholarship programs as well as on application requirements and deadlines, visit the Fulbright Commission website at: www.fulbright.org.tr.
For the full story, please visit:
Bilnews