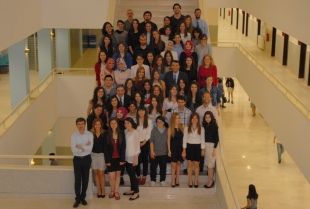 PSYCHOLOGY UNDERGRADUATE RESEARCH CONFERENCE
Congratulations to all of our senior psychology students for a successful
senior thesis research day. There were 4 oral presentations in the
morning followed by 40 posters in the afternoon.
Two of the student's
projects were funded by Tubitak BIDEB grants and a third received an award
from the Turkish Psychological Association. There was great turn out for
the event from students, faculty members, members of the Dean's office,
and the Rector who was able to speak with each of the poster presenters
one-on-one.