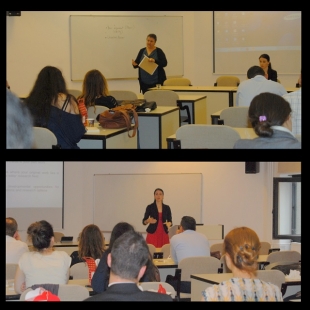 FEASS DOCTORAL WORKSHOP SERIES 2013-14 CONCLUDED WITH THE 'THE THESIS ENDGAME'
The last workshop in the scope of the FEASS Doctoral Workshop Series was held on May 29. The workshop was entitled as "The thesis endgame: Preparing for and handling the PhD defense" and conducted by Prof. Alev Çınar (POLS) and Dr. Athina Gkouti (IR). In her presentation, Prof. Çınar covered a variety of issues related with the thesis defense.
She underlined the importance of consistency and clarity of the argument of the thesis, connections that need to be made between the argument and literature review, justifications on the choice of methodology, and structuring of research chapters.
Dr. Gkouti shared her experiences regarding the thesis defense. She underscored necessary skills for a good performance, questions that might be asked, and the possible difficulties that can be encountered during and after the defense. The workshop continued with the Q&A session.

FEASS Doctoral Workshop will pursue next academic year!