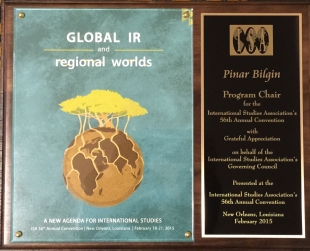 ISA 2015 PROGRAM CHAIRED BY PINAR BÄ°LGÄ°N
This year's International Studies Association (ISA) Annual Conference was held in New Orleans, Louisiana from 18 to 21 February. The ISA is the premium academic association in our Field.

Assoc. Prof. Pınar Bilgin, former IR Chair and Associate Dean of our Faculty, was the Program Chair for ISA 2015. We warmly congratulate her for making ISA 2015 a towering success. In the words of outgoing ISA President Amitav Acharya, "ISA 2015 in New Orleans was the largest ISA gathering ever with 8295 unique individuals submitting proposals, and the final convention program featuring 1250 panels/roundtables and 5325 individual participants".