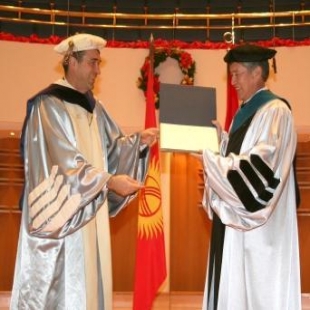 PRESIDENT OF KYRGYZSTAN AWARDED FEASS HONORARY DOCTORATE
Almazbek Atambayev, President of Kyrgyzstan, was awarded an honorary doctorate by Bilkent University on Friday, January 13. The ceremony took place in the University Concert Hall and was attended by a large contingent of the Bilkent community.

Born in 1956 in Kyrgyzstan's northern region of Chui, Almazbek Atambayev graduated from the Moscow Institute of Management with a degree in economics. From 1983 to 1987 he served on the Supreme Council of the Kyrgyz SSR. In 1993 he was one of the founders of the Social Democratic Party of Kyrgyzstan. Also a successful entrepreneur, he served as the country's minister of industry, trade and tourism in 2005-2006 and as prime minister in 2007. In 2008 he was elected head of the United People's Movement, and again became prime minister in December 2010. In December 2011 he was elected president of Kyrgyzstan.

In his speech, President Atambayev said, "Even though I studied in Moscow, it is only now, at age 55, that I am for first time in my life seeing such a great university. If academicians and students from Bilkent come to Kyrgyzstan, there's no doubt that Kyrgyzstan will develop. It is an honor to receive this doctoral degree from Bilkent University."