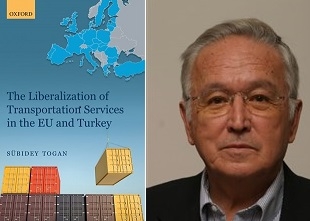 NEW BOOK by SĂśBÄ°DEY TOGAN
A new book by Prof. Sübidey Togan of the Department of Economics, "The Liberalization of Transportation Services in the EU and Turkey," has recently been published by Oxford University Press.
The book offers a discussion of the relation between transport costs and volume of trade. In this context, Prof. Togan examines the world trading system by looking at the economic history of trade costs and trade; considers international, regional and country-specific rules and regulations; and analyzes the effects of liberalization of the road, rail, maritime and air transport sectors.
Focusing on the EU, and Turkey in particular, the discussion indicates that economic liberalization pursued unilaterally, multilaterally or regionally has beneficial effects for Turkey, and that the benefits from such liberalization are substantial.
The volume further shows that transport infrastructure is an important determinant of exports, and hence GDP and GDP growth.
Prof. Togan's recent publications include "Economic Liberalization and Turkey" (Routledge, 2010); "Turkey: Economic Reform & Accession to the European Union" (with B. Hoekman; World Bank, 2005); and "Macroeconomic Policies for EU Accession" (with E. Basci and J. von Hage; Edward Elgar, 2007).
Bilkent News