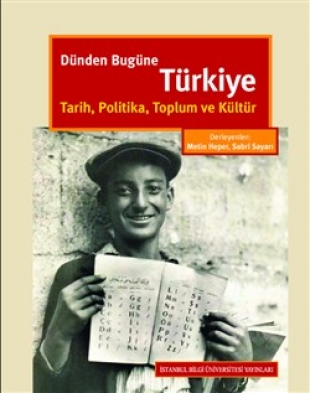 NEW BOOK by MET─░N HEPER BRINGS TOGETHER LEADING SCHOLARSÔÇÖ TAKES on TURKEYÔÇÖS HISTORY, POLITICS and CULTURE
A new book compiled by Prof. Metin Heper of the Department of Political Science and Public Administration and Prof. Sabri Sayar─▒ of Sabanc─▒ University, titled ÔÇťD├╝nden Bug├╝ne T├╝rkiye, Tarih, Politika Toplum ve K├╝lt├╝rÔÇŁ (Turkey From Yesterday to Today: History, Politics, Society and Culture) was recently published by ─░stanbul Bilgi ├ťniversitesi Press.
Previously published in English under the title ÔÇťThe Routledge Handbook of Modern TurkeyÔÇŁ (Routledge, London, UK; 2012), the book is a collection of articles by 36 doyens of the study of Turkey in political science, history and related fields: Metin Heper, Sabri Sayar─▒, Fikret Adaman, Zehra F. Kabasakal Arat, Murat Arsel, F. Umut Be┼čp─▒nar, Sava┼č Arslan, H. Tolga B├Âl├╝kba┼č─▒, Ali ├çarko─člu, Zeynep ├çelik, Alev ├ç─▒nar, Walter B. Denny, Clement H. Dodd, Tahire Erman, Ioannis N. Grigoriadis, B├╝lent G├╝ltekin, Tal├ót S. Halman, M. ┼×├╝kr├╝ Hanio─člu, Ahmet ─░├žduygu, Ersin Kalayc─▒o─člu, Ali L. Karaosmano─člu, Hasan Kayal─▒, Heath W. Lowry, Andrew Mango, Lenore G. Martin, Sean McMeekin, Ay┼če ├ľnc├╝, Ergun ├ľzbudun, Elizabeth ├ľzdalga, ┼×evket Pamuk, Ay┼če Saktanber, David Shankland, Martin Stokes, Erol Taymaz, Orhan Tekelio─člu, Nathalie Tocci, Binnaz Toprak and Kamil Y─▒lmaz.
Organized into five sectionsÔÇöhistory, culture, politics, society, and geography and economyÔÇöthe study begins by tracing the nationÔÇÖs history from the rise of the Ottoman Empire to the First World War and the establishment of the Republic of Turkey. The remaining sections consist of chapters focused on topical issues of the Republican period, ranging from from Ataturkism to civilÔÇômilitary relations, from the constitution and political system to religion and politics, from Kurds to European Union relations, from womenÔÇÖs and youth issues to literature, cinema, music and the fine arts. Additional topics include political culture, population and migration, urbanization, industry and employment.
Bilkent News