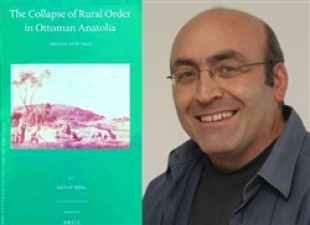 OKTAY ÖZEL's NEW BOOK EXPLORES "THE COLLAPSE of RURAL ORDER in OTTOMAN ANATOLIA"
Asst. Prof. Oktay Özel of the Department of History has recently published a new book, "The Collapse of Rural Order in Ottoman Anatolia," from Brill Publishing.
Exploring the significance of the rural violence and rebellions that took place at the turn of the seventeenth century in the Anatolian countryside, the book, in the words of the publisher's notice, "provides the reader with a fresh and innovative perspective on the long scholarly debate over the question of 'decline' in early modern Ottoman history. It offers a new agenda, a new type of source material, and a new methodology for the study of demographic crisis.
"Through a systematic examination of little-known, detailed avĂąrız registers, [the author] demonstrates in detail the mass desertion of rural settlements, the destruction of the agricultural economy, and the resulting collapse of rural order in Ottoman Anatolia at the turn of the seventeenth century."
Dr. Özel, who received his Ph.D. from the University of Manchester in the UK in 1993, has published many articles in both Turkish and English. He is also the author of two books in Turkish: "DĂŒn Sancısı" (Tarih Vakfı, 2012) and "TĂŒrkiye 1643: GoƟa'nın Gözleri" (Ä°letiƟim, 2013).
Bilkent News