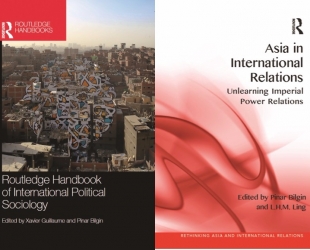 TWO NEW VOLUMES EDITED BY PINAR BÄ°LGÄ°N
Two new books coedited by Prof. Pınar Bilgin of the Department of International Relations and the Department of Political Science and Public Administration represent the completion of five years of intensive collaborative research into the interlocking fields of international political sociology and postcolonial international relations.
The first of the two volumes is "The Routledge Handbook of International Political Sociology," coedited with Xavier Guillaume of Groeningen University. The "Handbook" brings together over thirty authors to take stock of the emerging field of international political sociology and indicate future directions.
The second volume, titled "Asia in International Relations: Unlearning Imperial Power Relations," was coedited with L.H.M. Ling of The New School. The book incorporates a postcolonial perspective into the study of the international relations of Asia. Several of the chapters included in this volume were presented at a workshop Prof. Bilgin hosted in Ankara in 2013 with support from the Strategic Research Center of Turkey's Ministry of Foreign Affairs. Four new chapters were also solicited for the volume.
Together with her monograph "The International in Security, Security in the International," which came out in 2016, these two volumes mark the culmination of Prof. Bilgin's recent focus on political sociology and postcolonial IR approaches to the study of security.
Bilkent News