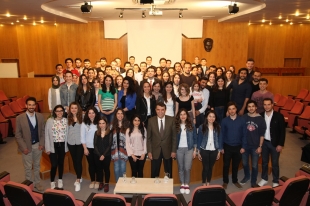 BILKENT-PUBLIC SECTOR CERTIFICATE PROGRAM
Hundred and two senior students from ECON, IR, POLS joined by LAW, MF and MAN departments who successfully completed the 2017 Bilkent-Public Sector Certificate Program, were awarded their certificates on May 10. After the ceremony, there was a reception hosted by our Rector Prof. Abdullah Atalar.

The certificate program was organized by FEASS in cooperation with Bilkent Alumni at several public institutions, including the Ministry of the Economy, the Ministry for EU Affairs, the Ministry of Foreign Affairs, the Undersecretariat of the Treasury, the Ministry of Customs and Trade, the Ministry of Development and the Banking Regulatory and Supervisory Agency.

Bilkent graduates who work in public institutions gave seminars concerning their areas of expertise, as well as career options and the entry requirements of their institutions in eleven sessions and one ministry visit. This has been a great experience and a unique opportunity for our students to interact with Bilkent Alumni.

This year's certificate program was the third of many that are expected to follow in the upcoming academic years.