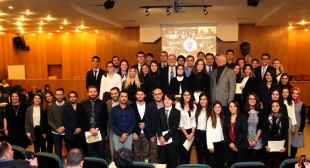 HISTORY OF TURKEY AWARD CEREMONY
The annual History of Turkey award ceremony took place on Wednesday, October 18 in C-Block Auditorium. The awards were presented to students whose projects were judged the best of the 2016ÔÇô2017 academic year.
History of Turkey (HIST200) is a compulsory course for all Bilkent University undergraduate students. The course is designed to encourage students to work in groups researching any topic of their choice relating to the history of Turkey. Since 2011 students from all departments have presented final projects based on their research topics, each of which sheds light on a specific area of Turkish history. These projects are then examined by a committee from Bilkent University, with those judged most successful being chosen to receive awards at the beginning of the following academic year.
This yearÔÇÖs ceremony, during which the 2017 award recipients presented their projects, was attended by members of the university administration and faculty, undergraduate students and their families, and other guests.
2016-2017 HIST 200 Awards
First Prize: ÔÇťKayak├Ây: M├╝badelenin G├Âlgesinde Dostluk ve Bar─▒┼č K├Ây├╝ÔÇŁ
Cansu Yetimo─člu (POLS), Duygu Erg├╝rtuna (IR), M─▒sra Akdeniz Nartur (POLS)
Second Prize: ÔÇťT├╝rk Askeri Havac─▒l─▒k Tarihinde Yi─čit Bir Tayyareci Muhsin AlpagotÔÇŁ
Hilal Eda Arpac─▒ (LAW), Batu Co┼čkun (POLS), Saniye Ezgi Ercan (LAW), Deniz Atalar (ECON), ─░lke Y─▒lmaz (LAW)
Third Prize: ÔÇťBir Cumhuriyet Diplomat─▒n─▒n Hikayesi: Bilinmeyen Y├Ânleri ile Zeki KuneralpÔÇŁ
H├╝seyin Ziya ─░mamo─člu (EE), ─░rem Ural (CS), ├ça─čla Erg├╝l (IE), Beyza Aslanba┼č (PHYS)
Merit Awards:
ÔÇťKur┼čunlu Belediye Ba┼čkan─▒ Mustafa GencerÔÇÖin Hayat─▒ ve Belediyecilik Y─▒llar─▒ (1955-60)ÔÇŁ
Naz Deniz Atik (TRIN), Mehmethan Erduran (POLS), Do─ču┼č G├╝lery├╝z (CTIS), Turgut Haspolatl─▒ (POLS), Beste T├╝rko─člu (POLS)
ÔÇťEv Han─▒ml─▒─č─▒ndan HarvardÔÇÖa: ├ťsk├╝dar Amerikan K─▒z LisesiÔÇÖnin TarihiÔÇŁ
Ece Ayaz (CS), Ekin Da─čl─▒ (ECON), G├Âkhan Tosun (EE), G├╝lce Elif Atabey (IR), Selen Haysal (CS)
ÔÇťOrd. Prof. Dr. Curt Kosswig BiyografisiÔÇŁ
Atakan Dizarlar (ECON), Ahmet Vefa Karabulut (MAN), Recep Din├ž (POLS), Serhat Bezmez (CS), Yusufikbal Beytur (ECON)
ÔÇťBayaz─▒t AilesiÔÇÖnin T├╝rkiyeÔÇÖdeki Yeri ve T├╝rkiyeÔÇÖye Kazand─▒rd─▒─č─▒ ─░simlerÔÇŁ
Menar Ekizce (MBG), Yi─čit Karaca (COMD), Ebru Kocakaya (MBG), Dilay ├ľzcan (IAED), Mine Ezgi ┼×ahin (MAN)
ÔÇťCumhuriyet Y─▒llar─▒n─▒n Parlayan Y─▒ld─▒z─▒, ─░lklerin Adam─▒, T├╝rk Bisiklet├ži: Cavit CavÔÇŁ
Sezin ├ťnl├╝ (MBG), G├Âkberk Bilgin (ECON), Yusuf Arslan (ME), ┼×ule Nur Mertcan (LAW), An─▒l Sena Bay─▒nd─▒r (LAW)
ÔÇťAmerikal─▒ Bir Diplomat─▒n G├Âz├╝nden Cumhuriyetin ─░lk Y─▒llar─▒: Joseph GrewÔÇÖ─▒n T├╝rkiye Maceras─▒ÔÇŁ
┼×amil ─░raz (CS), Ate┼č Bilgin (CS), G├Âkhan Hac─▒o─člu (POLS), Deniz ├çobano─člu (POLS), Ya─č─▒z Sucu (MAN)
ÔÇťBirinci D├╝nya Sava┼č─▒n─▒n G├Âr├╝nmeyen Bir Sahnesi: Seydi Be┼čir Esir Kamp─▒ÔÇŁ
Busenur Ba┼čaran (PSYC), Haluk Emir ├ľzkurt (IR), Hidayet Cem ├ľzt├╝rk (EE), ├ľzge G├╝ng├Âr (ECON), Selin G├╝ng├Âr (ECON)
Bilkent News
Feel free to browse the project posters at [http://feass.bilkent.edu.tr/?page_id=2840] and leave your comments.