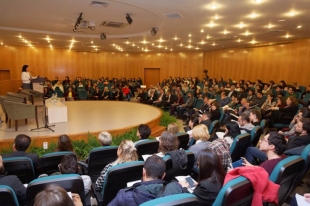 FEASS, EMBASSY OF FINLAND JOIN TO PRESENT PANEL ON EDUCATION
On November 23, a panel organized by the Faculty of Economics, Administrative and Social Sciences and the Embassy of Finland on "The Education System of Finland" was held in the C Block Amphitheater.

The panel began with a short concert by students of the Faculty of Music and Performing Arts, after which Rector Abdullah Atalar and the ambassador of Finland, Paivi Kairamo, delivered opening remarks. Rector Atalar discussed the history of the relationship between Bilkent University and Finland, going back to efforts of the university's founder, Prof. İhsan Doğramacı, in establishing a lasting relationship with Finland; Ms. Kairamo spoke about the significance of the 100th anniversary of Finland's independence, and her appreciation for the opportunity to engage with the academic community at Bilkent to celebrate this occasion.