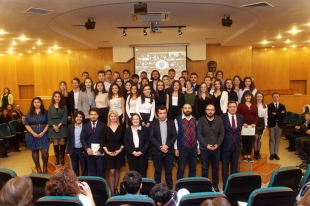 History of Turkey Awards Presented
The annual History of Turkey award ceremony took place on Monday, November 18 in C-Block Auditorium. The awards were presented to students whose projects were judged the best of the 2018–2019 academic year.

History of Turkey (HIST200) is a required course for all Bilkent University undergraduate students. The course is designed to encourage students to work in groups, researching any topic of their choice relating to the history of Turkey. Since 2011, students from all departments have presented final projects based on their research topics, each of which sheds light on a specific area of Turkish history. These projects are then examined by a committee from Bilkent University, with those judged most successful being chosen to receive awards at the beginning of the following academic year.

This year's ceremony, during which the 2018–2019 award recipients presented their projects, was attended by members of the university administration and faculty, undergraduate students and their families, and other guests.