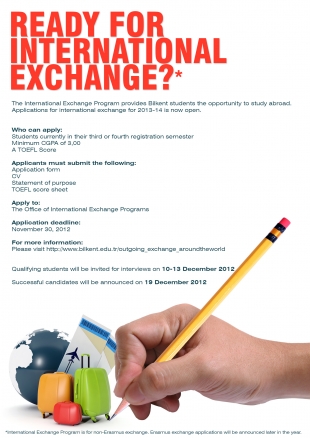 READY for INTERNATIONAL EXCHANGE?*
The International Exchange Program provides Bilkent students the opportunity to study abroad.
Applications for international exchange for 2013-14 is now open.
Who can apply:
Students currently in their third or fourth registration semester, Minimum CGPA of 3,00, A TOEFL Score
Applicants must submit the following:
Application form, CV, Statement of purpose, TOEFL score sheet
Apply to: The Office of International Exchange Programs
Application deadline: November 30, 2012

For more information:
Please visit http://www.bilkent.edu.tr/outgoing_exchange_aroundtheworld
Qualifying students will be invited for interviews on 10-13 December 2012
Successful candidates will be announced on 19 December 2012
*International Exchange Program is for non-Erasmus exchange. Erasmus exchange applications will be announced later in the year.