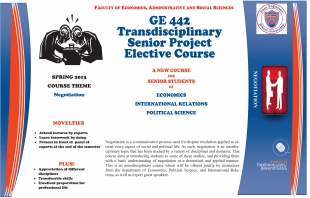 FEASS TO OFFER A NEW TRANSDISCIPLINARY PROJECT COURSE ON "NEGOTIATION"
Following the success and popularity of the transdisciplinary senior project elective courses offered by the Faculty of Economics, Administrative and Social Science (FEASS), a new course will be offered in the 2013 Spring semester with the overarching theme of "Negotiation".
Negotiation is a communicative process used for dispute resolution applied to almost every aspect of social and political life. As such, negotiation is an interdisciplinary topic that has been studied by a variety of disciplines and domains. This course aims at introducing students to some of these studies, and providing them with an interdisciplinary understanding of negotiation in a theoretical and applied manner.
Together with an appreciation of different disciplines, students of this course will be exposed and trained in transferrable skills, such as team work and presentation skills, which will be an excellent preparation for their future professional life.
GE442, will be led by faculty members from Economics, International Relations, and Political Science departments; and will be open to senior students of these departments. Alongside the faculty members (Dr Esra Çuhadar Gürkaynak, Dr Emin Karagözoglu, and Dr Nida Shoughry) the course will host expert and distinguished speakers to share their experiences and skills with the students.