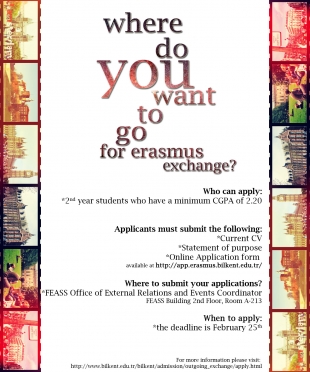 APPLICATIONS FOR ERASMUS EXCHANGE ARE NOW OPEN!
Please find below a link to the web-based program for the application form.
Click here
Please fill in the relevant parts, print out the form, sign it and submit it to FEASS Exchange Office together with your CV and statement of purpose by February 25, 2013.
For further information, you may want to attend the info sessions which will be held at A-130.
12 Feb12:40-13:30 IR
13 Feb12:40-13:30 PSYC
14 Feb 12:40-13:30 ECON
15 Feb 12:40-13:30 POLS