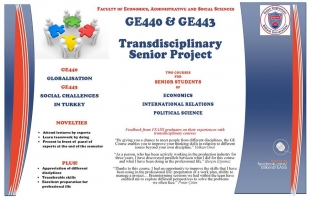 FEASS TO OFFER NEW TRANSDISCIPLINARY PROJECT COURSES
Following the success and popularity of the transdisciplinary senior project courses offered by the Faculty of Economics, Administrative and Social Science (FEASS), two courses will be offered in the 2013 Fall semester with the overarching themes of "GE440 Globalization" and "GE443 Social Challenges in Turkey. These courses aim at introducing students to these two important issues, and providing them with an interdisciplinary understanding of them.
Together with an appreciation of different disciplines, students of these courses will be exposed and trained in transferable skills, such as team work and presentation skills, which will be an excellent preparation for their future professional life.
GE440 and GE443 will be led by faculty members from Economics, International Relations, and Political Science departments: for GE440, Dr. Ali Bilgiç, Dr. Başak İnce and Dr. Mine Kara; for GE443, Dr Selin Sayek Böke, Dr Tolga Bölükbaşı and Dr. Özgür Özdamar. The courses will also host expert and distinguished speakers to share their experiences and skills with the students.