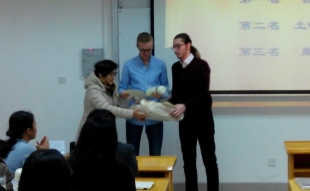 ECON EXCHANGE STUDENT WINS AWARD IN CHINA
Resul Tuğşad Yılmaz (ECON/III) has received a "Learning Excellence Award" from Shanghai University of Finance and Economics (SUFE), where he is currently studying as an exchange student.
The award recognized Resul's outstanding performance in a 15-week Chinese language course taken by exchange students. At the end of every semester, the top three international students are presented with the award on the basis of their exam results and their participation in class activities.
Bilkent News