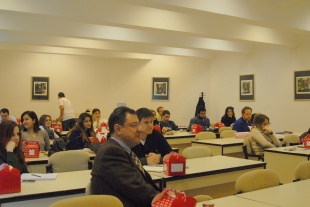 FEASS DOCTORAL WORKSHOPS CONTINUED IN FEBRUARY
On February 27, Dr. Ken Weisbrode (HIST) and Dr. Selver ┼×ahin (IR) were at the FEASS Doctoral Workshop on ÔÇťTop Tips to Manage Your SupervisorÔÇŁ. Dr. Weisbrode underlined the importance of supervisor not only for the success of the thesis; but also for references that the supervisor can provide for the studentÔÇÖs post-PhD career. He also underscored empathy between the student and the supervisor during the process of writing. By sharing her own experiences, Dr. ┼×ahin covered a variety of issues from the significance of good communication to the necessity of clarification of mutual expectations.

The next workshop will be on March 27, 2014. Ali Bilgi├ž (IR) and Zeki Sar─▒gil (POLS) will be sharing their experiences about publishing doctoral theses as journal articles and books.