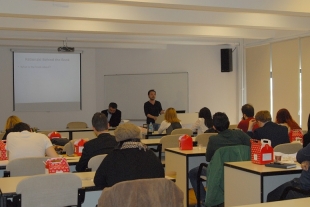 FEASS DOCTORAL WORKSHOP ON ACADEMIC PUBLISHING
On April 10, Dr. Ali Bilgiç (IR) and Dr. Zeki Sarıgil (POLS) gave a talk entitled "Publishing your thesis as journal articles or a book" as a part of the FEASS Doctoral Workshop Series. Dr. Sarıgil started the talk and he concentrated on publishing in journals.
In his presentation, Dr. Sarıgil focused on the question of "Why publish?" He continued with the steps of publishing, which include sharing articles for receiving feedback, choosing the right journal, time and style of initial submission. He also touched upon the processes of acceptance, revise&resubmit and rejection.
The workshop continued with Dr. Bilgiç's presentation on book publishing. Dr. Bilgiç provided the audience with relevant information regarding choosing the right publishing house as well as writing a good book proposal. He explained the details that are needed to be incorporated into a book proposal such as rationale behind the book, novelty of the work, and target market. The workshop continued with a question and answer session in which FEASS faculty shared their own publishing experiences and PhD candidates raised questions about the processes of publishing.