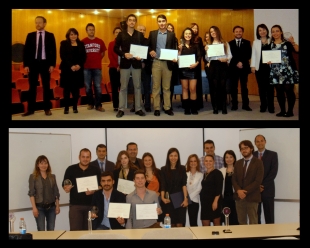 GE PANELS AND AWARDS FOR FEASS SENIOR STUDENTS
On May 10, student teams in FEASS transdisciplinary courses GE440 (Globalization) and GE441 (the European Union) presented their projects to panels of experts. Organized into 17 teams in total, students in both courses worked on their projects intensively throughout the semester, integrating different disciplinary perspectives.
In GE440, students explored various dimensions of globalization. At the conclusion of the semester, they presented the results of their work to a panel composed of Bahar ├çelikkol Erba┼č (TOBB-ET├ť), Clemens Hoffmann (Bilkent), Nida Shoughry (Bilkent University), Ferhat Emil (Bilkent University) and H├╝sn├╝ Ada (Ministry of Economy). The first prize went to a project entitled ÔÇťDas Kebab: Intergenerational Integration of Turkish Migrants in GermanyÔÇŁ.
GE441 students, who analyzed different aspect of the European Union, had their efforts judged by a panel consisting of Ba┼čak Alpan (METU), Petek Karatekelio─člu (EU Ministry), Murat ├ľnsoy (Hacettepe University), Emre Say─▒n (EU Ministry) and Selver ┼×ahin (Bilkent University). The project entitled ÔÇťEurope\'s Turn to the Right: Investigating the Far Right Populism and ExtremismÔÇŁ was awarded first prize.
The panels were followed by a reception where the parents of GE students celebrated the hard-work and success of their children. The reception took place in FEASS Atrium.
In Fall 2014-15, FEASS transdisciplinary GE courses will be offered to senior students in the Departments of Economics, International Relations, Political Science and Public Administration.
Please follow the courseÔÇÖs Facebook page:
https://www.facebook.com/FEASSGE4XX