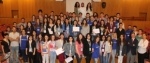 İKTİSADİ, İDARİ VE SOSYAL BİLİMLER FAKÜLTESİ LİSE YAZ OKULU 2015
İktisadi, İdari ve Sosyal Bilimler Fakültesi'nin düzenlediği 2015 Lise Yaz Okulu'muzu tamamlamış bulunuyoruz. Fakültemizi ziyarete gelen tüm öğrencilere çok teşekkür ederiz. Türkiye'nin farklı şehirlerinden Üniversitemizi ziyarete gelen lise öğrencileri üç gün boyunca öğrenerek ve eğlenerek keyifli bir zaman geçirdiler. Bölümleri tanıdılar ve fakültemizin İktisat, Psikoloji, Siyaset Bilimi ve Kamu Yönetimi, Uluslararası İlişkiler Bölümleri öğretim görevl...
Read More
---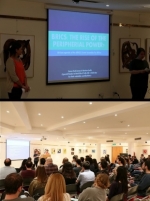 FEASS SENIORS AT THE LIBRARY'S 'STUDENT SEMINAR SERIES'
Bilkent University Library's new initiative 'Student Seminar Series' continued with the presentation of FEASS senior students Cansu Kahraman (IR) and Nurten Çevik (IR). Kahraman and Çevik presented their first prize winner research project on the African agenda of the BRICS as part of GE445 Transdisciplinary Senior Project on Power and Development. Their engaging presentation included various topics from development and neoliberal agenda as well as the development projects carried out by...
Read More
---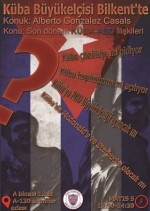 RELATIONS BETWEEN CUBA AND USA
Alberto Gonzalez Casals- Ambassador of CUBA
Date: 05.05.2015 Tuesday
Time: 12:30 -14:30
Place: A-130
---
All News