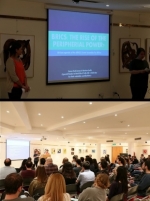 FEASS SENIORS AT THE LIBRARY'S 'STUDENT SEMINAR SERIES'
Bilkent University Library's new initiative 'Student Seminar Series' continued with the presentation of FEASS senior students Cansu Kahraman (IR) and Nurten Çevik (IR). Kahraman and Çevik presented their first prize winner research project on the African agenda of the BRICS as part of GE445 Transdisciplinary Senior Project on Power and Development. Their engaging presentation included various topics from development and neoliberal agenda as well as the development projects carried out by...
Read More
---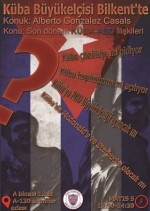 RELATIONS BETWEEN CUBA AND USA
Alberto Gonzalez Casals- Ambassador of CUBA
Date: 05.05.2015 Tuesday
Time: 12:30 -14:30
Place: A-130
---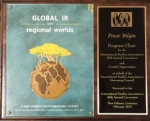 ISA 2015 PROGRAM CHAIRED BY PINAR BİLGİN
This year's International Studies Association (ISA) Annual Conference was held in New Orleans, Louisiana from 18 to 21 February. The ISA is the premium academic association in our Field.
Assoc. Prof. Pınar Bilgin, former IR Chair and Associate Dean of our Faculty, was the Program Chair for ISA 2015. We warmly congratulate her for making ISA 2015 a towering success. In the words of outgoing ISA President Amitav Acharya, "ISA 2015 in New Orleans was the largest ISA gathering ev...
Read More
---
All News