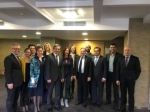 FEASS ADVISORY BOARD DISCUSSES TRENDS IN SOCIAL SCIENCE EDUCATION
FEASS First External Advisory Board convened on March 3, 2018 at Bilkent Hotel. The meeting began with the introduction of the participants, followed by a presentation by Dean Prof. Erinc Yeldan. Dean Yeldan pointed out the global trends affecting the social sciences education and pointed out the sources of transformation in the global economy, politics, and society. He presented his analysis on the impact of automation of industry, the structural shift toward a knowledge based flexible employ...
Read More
---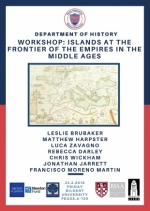 WORKSHOP: DEPARTMENT OF HISTORY
Dear Colleagues and Students,
Event 1)
On Wednesday, February 21st, Rebecca Darley from University of London will give the following talk, as part of the Department of History and Bilkent Historical Society Events series.
''Speaking in Many Voices: Byzantine Coins in South India as Sources For Maritime and Inland Histories''
The talk will be in English and take place in H-232 at 16:45.
Event 2)
Francisco Mo...
Read More
---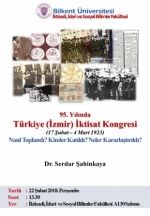 95. Yılında Türkiye (İzmir) İktisat Kongresi
(17 Şubat - 4 Mart 1923)
Nasıl toplandı? Kimler katıldı? Neler kararlaştırıldı?
Dr. Serdar Şahinkaya
Tarih: 22 Şubat 2018 Perşembe
Saat: 13.30
Yer: İktisadi, İdari ve Sosyal Bilimler Fakültesi A130 Salonu
---
All News