BILKENT (ECONOMICS)ERASMUS EXCHANGE 2016-2017
Application requirements
Minimum 2.50 CGPA -- at the time of application
Students of the [3rd – 6th] registration semester
Irregular students:
Must include a petition and a copy of transcript with application;
To be considered on a case-by-case basis
---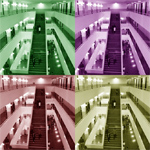 2 Positions – Assistant Professor in International Relations
Department of International Relations, Bilkent University, Ankara
Bilkent University is an English-medium private research university located in Ankara, Turkey. It is the country's first private, non-profit university, and is placed on global rankings as the leading university in Turkey. The university offers on-campus housing, International Baccalaureate schooling options for dependents, a diverse intellectual environment, and a variety of other facilities and outstanding oppo...
Read More
---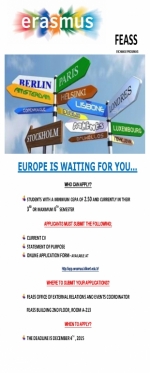 EUROPE IS WAITING FOR YOU…
WHO CAN APPLY?
STUDENTS WITH A MINIMUM CGPA OF 2.50 AND CURRENTLY IN THEIR 3RD OR MAXIMUM 6TH SEMESTER
APPLICANTS MUST SUBMIT THE FOLLOWING;
CURRENT CV
STATEMENT OF PURPOSE
ONLINE APPLICATION FORM- AVAILABLE AT
http://app.erasmus.bilkent.edu.tr/
WHERE TO SUBMIT YOUR APPLICATIONS?
FEASS OFFICE OF EXTERNAL RELATIONS AND EVE...
Read More
---
All News