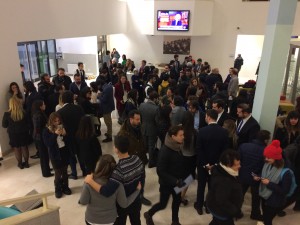 FEASS STUDENT TEAMS AWARDED BY THE PANELS OF EXPERTS
On Monday May 11th, student teams of GE443 and GE445 presented their transdisciplinary senior projects to panels of experts. Organized into a total of 25 teams, the students of both courses worked on their team projects intensively throughout the semester. GE443 Students 'Social Challenges in Turkey' analysed multiple social challenges by integrating different disciplinary perspectives, and presented their projects to an expert panel consisting of Saime ÖzĂ§ĂŒrĂŒmez (POLS), Sibel Kalaycıoğlu (ODTÜ), Nazlı Önkal (John Wiley and Sons). The first prize was awarded to the team project entitled ' LGBT Community under the Counter Effects of Neoconservatism and Democratic Globalization'. The second panel, held for GE445 'Power and Globalization', evaluated student projects that explored how power works in the global political economy. The students presented their projects to Ferhat Emil (ECON), Nilgun Fehim Kennedy (POLS) and Onur Isci (IR). The project named 'Microcredit: the False Promise of Development and Empowerment' was awarded the first prize.
FEASS GE courses have become the ultimate arena for senior FEASS students to conduct project management in transdisciplinary teams. GE projects continue to impress expert panellists since the launch of the courses in 2012. In the reception held at FEASS Atrium, students, their parents, panellists, and lecturers of GE courses celebrated one more successful semester.
1. The effects of gender images (working women and women's education) in popular television series in terms of life styles and consumption patterns.
2. The effectiveness and challenges of Drug Rehabilitation centers in Turkey
3. Ecovillages in Turkey investigated from the angle of organic farming, its challenges, problems and state support.
4. Exported popular TV series – analyzed in terms of Turkey's global "soft power" and economic significance
5. Situation of stateless people in Turkey – based on a case study of a group of people from Western Thrace
6. The effects of state support, censorship and regulation on the situation and success of the Turkish Cinema industry
7. The project to build a nuclear energy plant in Sinop in light of existing debates on nuclear energy, and public awareness and knowledge on nuclear energy and its consequences in the Sinop area.
8. The Konya Solar Energy plant in light of existing debates in the world and in Turkey on renewable energy, and the knowledge, awareness and reception of the plant in the area.
9. Discrimination against Syrian workers in terms of equal pay, benefits, and abusive working conditions in Ankara (Ostim and Siteler)
10. The legal status, consequences and politics of conscientious objection in military service in Turkey in relation to the "security state"
For more information, please visit: https://www.facebook.com/FEASSGE4XX